Palm Desert Country Club Golf Course in California
The golf course is open!
We are open according to state and local regulations and we are confident that we have all the appropriate safety precautions in place.
• Our staff will be wearing face masks.
• Guests are required to wear face masks at all times in the clubhouse.
• Due to current restrictions from the Governor's office, the restaurant is closed.
• Hand sanitizer station has been set up.
• Designated staff will be cleaning and sanitizing the entire clubhouse before opening and throughout the day.
• Guests should practice social distancing in and around the clubhouse, while on the putting green or waiting to be called for their round.
We look forward to welcoming you back!
Palm Desert Country Club.
Palm Desert Golf Course.
Experience 18 holes at the Palm Desert Country Club golf course, one of the best public golf courses in Coachella Valley.
---
The Palm Desert Country Club Golf Course features lovely tree-lined fairways,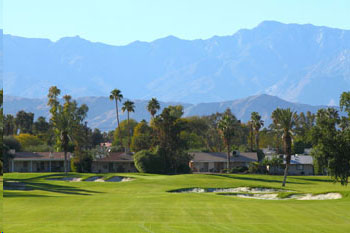 subtle greens, mountain views, and lots of nature. The Palm Desert golf course is an 18-hole, par 72 regulation course with double-wide fairways. Check out tee times available at the Palm Desert Golf Country Club and experience the best public golf course in Palm Desert California.
The Palm Desert Country Club also has a modern Clubhouse Restaurant which offers amazing pub-style food and beverages. The Cactus Club Restaurant also has live music on the fire-lit veranda every Friday and Saturday evening from 6:30PM to 9:30PM . The music changes weekly and ranges from Acoustic Rock to Chicago Blues to Country. Along with live entertainment, The Cactus Club Restaurant is also one of the only Palm Desert pubs to feature NHL hockey games in beautiful high definition, all season long.
Palm Desert Country Club Golf Course
Nominated for the Best Public Golf Course In Coachella Valley! By Coachella Valley Weekly
Wide fairways and subtle greens, appealing to all levels of golfers
Treat yourself to pub-style American food and drinks at The Cactus Club
Enjoy live entertainment, sports and special events.
What Palm Desert Golf Guests Are Saying
"Fun Course to play, and the course has a lot of charm. Each hole well defined from the tee. Course winds through the community. Fairways lush, greens fast and true, but not receptive. The ball tends to run quite a bit on them. You can score well on the course. Pace of play was great. Wish there was a range to warm up, only 2 mats in a cage, but a nice short practice area for pitch shots and chipping Large putting green. Great course for the price, and would play it again."  Rootthesam via GolfAdvisor, 2018
"Got right on, played with a cool local, John. It's a beauty…Tee boxes, fairways, bunkers and greens all well cared for and in excellent shape. A undulating loop, bet the greens will beguile you. Great value, awesome views, what more can you ask for! See you next time!" U20888 Via GolfAdvisor, April 2018
 "Beautiful course. A real challenge for the 68 yr old. Loved my lunch. Friendly people." Janet via GolfAdvisor, April, 2018
"This is a fun and quirky course, that is affordably priced. It's not a fancy type of golf course or club house, but a great bargain, and fun to play. My wife and I love going to the club house for Taco Tuesday, and for the live entertainment on Friday/Saturday nights. Especially when we find out that Janine is playing. Love her!!! The staff is very welcoming and friendly, and makes an effort to make their guests feel welcome." GolfAdvisor, Mar 18
"I had a fabulous time at their course. The staff was the friendliest I can remember anywhere, especially the cart attendant. He took time to tell me about the course, the area and what I should look for. The course was in perfect shape. Not the toughest course, but a great round on a short get away. When I'm back out that way, that will be my first stop." Harddraw via GolfAdvisor, Dec 2017
"The course was in great shape and the staff were all friendly and helpful.We had lunch after our round in the Cactus Club and it was very good and reasonably priced. Would recommend it to all golfers." SharBob via GolfAdvisor, Dec, 2017
"Taco Tuesday night is great! Pasta Thursday night is even better!!!"  Bruce via Facebook , Dec 2017
"Have played this course for years. It has always been in great shape but this year it is outstanding." KPotter via GolfAdvisor, Dec, 2017
"Greens are among the best around right now in the Coachella Valley – a real pleasure to putt. Course is not overly taxing but back 9 is nicely laid out with elevation gains, big trees, nice and relaxing to play. After the round the pub in the clubhouse is great. Apparently they have live music some nights, will have to come back and try that." Trolley!  via Golfadvisor, Nov 2017
"The food is top notch..with a special word for Nora who makes you feel so welcome and Jennifer the awesome bartender." Jo via Facebook, Nov 2017
"PDCC is a very nice community and a great clubhouse. We love vacationing here." Ruba A via Google, October 2017
"Excellent food, drinks that are priced right and great live music on Friday and Saturday nights!" Allen A via Google, September 2017
"Palm Desert Country Club staff did an amazing job in assisting us with our golf tournament and dinner. I received many compliments on the quality of the meal; many of them saying it was the best they had seen at a tournament. All of the staff at Palm Desert Country Club were great. We look forward to being there next year." Cory M via email, April 2017
We've been golfing at this location for quite some time and never have had a bad day there. The course is in excellent condition and the price to play is very attractive. This is one of the oldest courses in Palm Desert and has beautiful wide fairways with enough challenges to keep it interesting….and fun! The golf pro, Dave, and his staff are very accommodating, pleasant, and the best to work with to ensure you have a great experience at this course. Obviously we golf there as often as possible and encourage all our desert rat buddies to join us. After golf, be sure to visit the Cactus Club for a libation and nosh….you can't go wrong." Pare10s via Trip Advisor, March 2017
"Played course last Sunday. Greens are in great condition compared to other courses we played this week. Fairways are wide and in great condition as well. Mature woman on the beverage cart was very pleasant." Creyda via Golfadvisor, Nov 2016
"Like this golf course Good price with a cart very nice scenery . Some par 4 and par 5 great service cart lady was great good food on patio". Ken via Trip Advisor, Nov 2016
"I Always have a great time at Palm Desert Country Club. Great service, great food, Great music. A must visit to all."  Dejjerrypd Rivera via Facebook, Nov 2016
"My friend and I came here on Saturday night to enjoy a glass of wine and listen to live music. The Cactus Club has friendly staff and we happened to come on the night they had their annual Halloween Costume Party. The band – Off Da Cuff – was great and I'm guessing they are a regular band since they seemed to know quite a few of the people in the audience. I can see this place being a 'regular' for me as well. Thoroughly enjoyable evening. Get there early though unless you have a reservation because the outside seating area is mostly reserved except around the fire pits. We met some other party goers and had a good time."  Diane E via Yelp, Nov 2016